Our competences
Our successful R&D projects and our own laboratory equipment allow us to formulate the following competence areas:
Optical and lighting simulations
Metal surfaces inspection
Optical measurement and 3D laser scanning
Robotic inspection
Optical and lighting simulations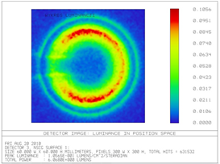 optical systems design (Zemax, Fred)
ligthing systems design (Zemax, Fred)
optical systems optimisation
topographic measurements of optical surfaces (Olympus confocal microscope, CCI Taylor Hobson interpherometer)
bidirectional reflectance function measurements BRDF (Radiant Imaging Imaging Sphere)
bidirectional transmitance function measurements BTDF (Radiant Imaging Imaging Sphere )
photometric measurements of lighting systems (Radiant Imaging Photometer)
photometric measurements of LED's (Radiant Imaging Imaging Sphere)
spectral examination of ligthing systems
Metal surfaces inspection

Along with the increase of surface smoothness (decreased roughness) and freeform sharpness, the optical inspection becomes harder. The mirror like surfaces are difficult to illuminate and photograph. Additionally, the variety of surface flaws and their not deterministic appearance are a real challenge for image analysis, feature extraction and classification algorithms.
Our expertise includes bearing rollers, bearing races, constant velocity universal joints and implants screws.
Optical measurement and 3D laser scanning

Optical length or angle measurements can verify a lot of features contactless and very quickly, with high accuracy and low uncertainty. The collimated light, telecentric lenses, distortions calibration and subpixel measurement algorithms are here applicable.
When 2D measurement becomes to be insufficient, it is necessary to apply laser triangulation methods for three dimensional image acquisition. The laser triangulation imaging though requires solving the problems of occlusion, calibration and scanning efficiency.
Here we use the Ranger Multiscan camera (SICK) and MV lasers with microlenses optics.
Robotic inspection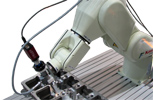 When the inspected features require observation from different directions or the products line is characterised by high variability, machine vision is supported with robotics. A robotic arm carries a camera along with an illuminator, ensuring optimal acquisition conditions, which guarantees high flexibility and efficiency.
The camera systems can also support robots. Robot eyes or visual servo introduce adaptive control which increase flexibility, accessibility and safety of robots.
Our expertise includes Kawasaki, Mitsubishi and Fanuc robots.
Machine Vision lightning simulation
Feasibility studies – if the risk is considered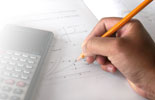 If the quality inspections requirements are not well specified or the machine vision task seems to be not trivial, the project risk should be considered. To reduce the potential uncertainty we offer the feasibility study. Most important answers and deliverables of the pre-project are: flaws catalogue with quantitative specifications, prototype for reliability and effectiveness validation, efficiency and costs estimation.
See our references.
If you see that your problem goes beyond the engineer practice and you expect innovative solutions, we are ready to take the challenge. Just contact us.